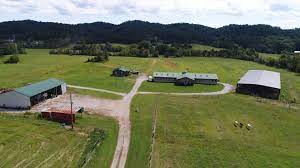 Blue Point Stables is a place "Where every horse is Loved". We believe that every horse is special and deserves proper care and consideration daily. We treat our clients' horses as if they were our own.
Full Stall Board – $495/month
Full Stall Board includes normal care in the barn and the following…
· Stalls with premium bedding, cleaned daily
· Individual feeding program suited to your horse
· Himalayan Salt block
· Night Checks
· Group Turn-out (weather permitting) in one of our many pastures/paddocks
· Private paddock turn-outs available for an additional charge.
· Leg & Body Checks
· Extra fee Services – including timed stall lighting, convalescent care, grooming, washing, in stall automatic fly spray, exercising, training and others are available.
Facility Amenities
· Spacious 12' x 12' rubber matted stalls with LED lighting
· Hot & Cold water, inside of lighted 15′ x 12′ wash bay.
· 16' wide paved stable aisleway
· 70′ x 200′ Covered, Lighted Arena
· 125′ x 275′ Seasonal Derby Field
· In stable restroom facility.
· Boarder Tack room
· The facility manager lives on the premises.