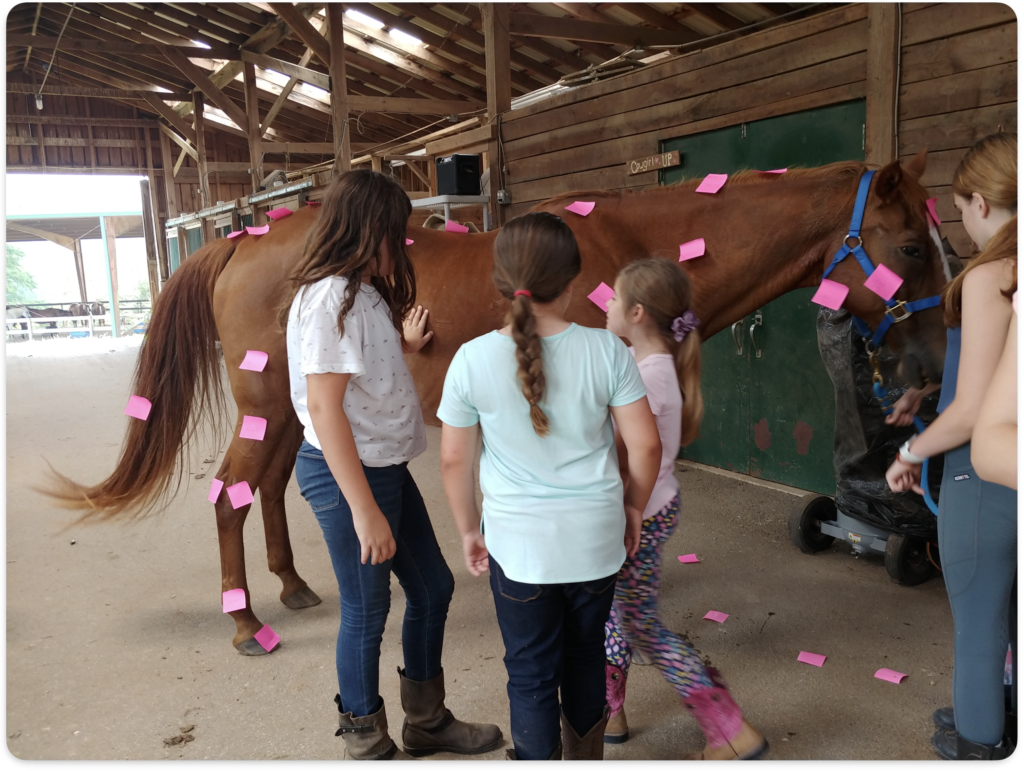 The Camp program at BPS is a great opportunity for riders to spend more specialized time with horses. Camp is a time for riders to explore and enjoy horses in ways that we don't cover in regular lessons. Some of these activities are games on horseback, grooming competitions, in-hand exercises, and bareback riding. Registration is quick and easy! This button takes you to our secure registration form and payment service.

---
Horsemanship Camps – Cost $550
Horsemanship Camps are weeklong day camps that run from 9 – 4 each day. Campers typically participate in 2 riding lessons per day, stable management and Horse handling classes and barn chores. This is offered to boys and girls ages 9 – 16. All campers are welcome from the experienced equestrians to the horse lovers who have never been on a horse before!
Upcoming Horsemanship Camp Dates
June 3 – 7, 2024
June 10 – 14, 2024
June 24 – 28, 2024
---
Spring Break Horse Health Horsemanship Camp – Cost $375
The Spring Break Horse Health Horsemanship Camp is very much like our regular Horsemanship Camp. It will run from 9 – 4 each day. In addition to regular Horsemanship Camp activities there will be an emphasis placed on horse health. On the final day of Camp participants will be present while our veterinarian performs dentals, vaccinations, worming and blood work on our lesson horses. This is a great camp for an aspiring veterinarian!
Spring Break Horse Health Horsemanship Camp will be offered March 12 – 14 in 2024.
---
Pony Pals Camp – Cost $250
Pony Pals Camp is 4 days and runs from 9-12 each day. This camp is geared towards younger horse enthusiasts – boys and girls ages 6 – 10. These camper will take one riding lesson per day. They will also participate in other activities such as games and crafts. This is a great opportunity for beginner riders.
Pony Pals Camp will be offered May 28 – 31 in 2024.
---
Horse Lover's Camp is the ultimate horse girl camp! New for 2024 Blue Point Stables will be offering 2 Horse Lover's Camps! Campers will spend a week at Blue Point Stables eating, sleeping and breathing horses. Campers will engage in all of the same activities as Horsemanship Camp but will have additional experiences. We have campfires at night, nature walks, swimming, game night, cook outs, bareback riding, trail rides and more!
Upcoming Horse Lover's Camp Dates
June 16 – 21, 2024 – cost $950 (5 nights)
June 2- July 3, 2024 – cost $760 (4 nights)
---